Rough Collie Standard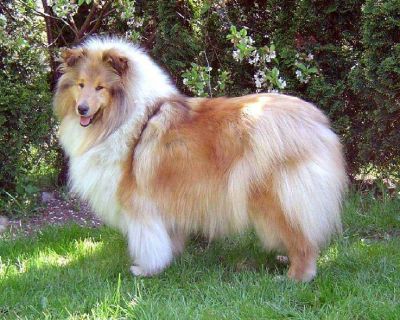 BEAUTY PARISIENNE des Marecages du Prince – bitch, born 18/06/2006 import France
Zatwierdzony przez FCI pod nr 156 c, obowiązuje on od 1982 roku.
Wygląd ogólny i charakterystyka. Collie może podołać zadaniom psa owczarka dzięki mocnej budowie, która nie powinna być ani ciężka, ani w żadnym razie niezgrabna. Uwagę zwraca mający duże znaczenie jego wygląd, jaki zawdzięcza doskonale zrównoważonej harmonii kształtów mózgowioczaszki i pyska, wielkości, formie, barwie i osadzeniu oczu oraz właściwemu osadzeniu i trzymaniu uszu. Każda część jego ciała jest proporcjonalna w stosunku do całości.
Piętno płci. Powinno być wyraźne. Męskość psa i żeńska płeć suki powinny być rozpoznawalne.
Wzrost i ciężar. Wysokość w kłębie psa 56-61 cm, suki 51-56 cm. Ciężar psa 20,5-29,5 kg, suki 18-25 kg.
Głowa. Jej kształt ma duże znaczenie, a wielkość powinna być proporcjonalna w stosunku do ciała. Mózgowioczaszka płasko sklepiona, głowa oglądana z przodu lub z boku ma kształt klina o gładkich zarysach, wyraźnie ściętego. Poczynając od uszu stopniowo zwęża się aż do wierzchołka nosa, przy czym kości policzkowe nie są wystające, a policzki i boki pyska są gładkie. Przełom czołowo-nosowy ma postać nieznacznego, lecz dostrzegalnego wklęśnięcia, którego punkt środkowy znajduje się na wysokości kącików wewnętrznych oczu, dzieląc długość głowy na dwie równe części. Linie wierzchołka mózgowioczaszki i oddzielonego od niej wklęśnięcia grzbietu nosa przy oglądaniu z profilu są równoległe a długość pyska i mózgowioczaszki są jednakowe. Pysk nie jest spiczasty, lecz łagodnie ścięty na końcu z wierzchołkiem nosa czarnego koloru przy każdym umaszczeniu.
Uzębienie. Zęby powinny być duże, zgryz nożycowy. Nieznaczny odstęp między górnymi a dolnymi siekaczami nie stanowi wady.
Oczy. Są średniej wielkości, o kształcie migdała, osadzone nieco skośnie, barwy ciemnopiwnej, z wyjątkiem psów o umaszczeniu marmurkowym, których często oczy, lub tylko jedno z nich, mają całą tęczówkę, albo jej część koloru jasnobłękitnego. Spojenie wyraża pojętność, jest żywe i czujne, gdy pies skupia na czymś uwagę.
Uszy. Powinny być małe, umieszczone na wierzchu czaszki nie za blisko siebie, ani też za bardzo z boku głowy. W stanie spokoju pies trzyma je zazwyczaj stulone do tyłu, w stanie zaś czujności, nasłuchując, zwraca uszy do przodu, w pozycji półstojącej, tj. wyprostowane do góry w 2/3 długości, a w 1/3 załamane do przodu z końcami trzymanymi poziomo.
Szyja. Powinna być muskularna, mocna, dostatecznie długa i dobrze wygięta.
Tułów. Grzbiet bardzo mocny i lekko wypukły w okolicy lędźwiowej, klatka piersiowa głęboka, dostatecznie szeroka tuż za łopatkami, żebra dobrze wysklepione.
Ogon. Długi, sięgający ostatnim kręgiem co najmniej do stawu skokowego.
Kończyny przednie. Proste i muskularne o kości średniej grubości. Łopatki skośne, dobrze ukątowane, łokcie przylegające, ani odstające, ani wcięte. Palce wypukłe, ściśle zwarte w łapę kształtu owalnego, opuszki mocne.
Kończyny tylne. Powinny mieć uda dobrze umięśnione oraz suche, żylaste podudzia, dobrze wygięte w stawie kolanowym i mocne, nisko opuszczone stawy skokowe. Palce jak u nóg przednich, tylko nieco mniej wypukłe.
Chody. Ruchy psa są lekkie, o wystarczająco długim kroku, wykonywane z widoczną łatwością.
Owłosienie. Nadaje psu kontury i składa się z włosów okrywowych prostych i w dotyku twardych oraz podszycia z delikatnego puchu, bardzo gęsto, szczelnie okrywającego skórę. Grzywa i kryza na szyi powinny być nadzwyczaj obfite. Sierść na pysku i kończynach uszu krótka, gładka, na dolnych częściach uszu dłuższa. Nogi przednie ozdobione frędzlami, na kończynach tylnych również frędzle bardzo obfite powyżej stawu skokowego, lecz poniżej sierść krótka, gładka. Owłosienie ogona również bardzo obfite.
Umaszczenie.
Lynaire THE SINFUL TOUCH
MARMURKOWE (inaczej:blue-merle) Collie marmurkowe podstawowy kolor szaty mają czarny z licznymi srebrnymi plamami. Srebrne plamy powinny regularnie rozjaśniać okrywę psa,nie pozostawiając zbyt dużych czarnych miejsc. Oczy mogą być niebieskie lub z niebieskimi plamami. Jest to bardzo efektowne umaszczenie. Składa się ono z czterech kolorów: srebrny, czarny, brązowy (podpalania) i biały (znaczenia). Tak maszczonego psa można kojarzyć tylko z psem tricolorowym, uzyskując w efekcie 50% szczeniąt tricolor i 50% szczeniąt marmurkowych.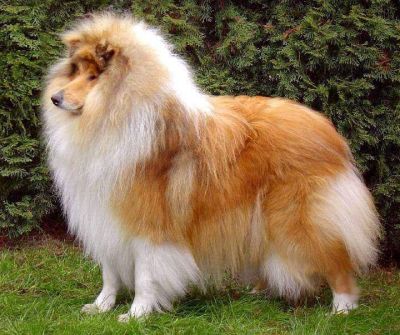 Amalie SOUL SEARCHER, dog import Great Britain ( UK )

Śniade (złote) Collie śniade podstawowy kolor szaty mają brązowy. Kolor powinien być intensywny – jasne, słomkowe kolory są niedopuszczalne. Oczy z niebieskimi plamami są przy tym umaszczeniu niedopuszczalne. Jeśli pies jest określany mianem "złoty", to wygląda tak samo, jak śniady, ale różni się od śniadego genotypem – psy złote nigdy nie dadzą potomstwa tricolorowego, natomiast śniade część szczeniąt da śniadych, a część tricolorowych. Jest to najpopularniejsze umaszczenie. Takiej właśnie maści była słynna "Lasie". Składa się ono z dwóch kolorów: brązowy w dwóch tonacjach (podstawowym i podpalania) i biały (znaczenia). Tak maszczonego psa można kojarzyć z psami tricolorowymi, śniadymi lub złotymi, uzyskując w efekcie szczenięta śniade, złote lub tricolorowe ( jednak pies złoty nigdy nie da tricolorowego).
TRICOLOR Collie tricolorowe podstawowy kolor szaty mają czarny. Kolor powinien być zdecydowanie czarny, bez przebarwień. Również bardzo piękne umaszczenie Składa się ono z trzech kolorów: czarny, brązowy (podpalania) i biały (znaczenia).Tak maszczonego psa można kojarzyć z psami wszystkich maści uzyskując w miocie szczenięta o umaszczeniach: tricolor+tricolor=100% szczeniąt tricolor tricolor+śniady=50% szczeniąt tricolor + 50% szczeniąt śniadych tricolor+złoty=100% szczeniąt śniadych tricolor+marmurek=50% szczeniąt tricolor + 50% szczeniąt marmurkowych
[Reproduced with the kind permission of the KC]
The Rough Collie is the same as the Smooth Collie with the exception of coat length. The breed is thought to have evolved from dogs brought originally to Scotland by the Romans as far back as 50 BC which then mated with native types.
Purists may point to subtle differences which have appeared as individual breeders selected stock for future breeding, but the fact remains that the two breeds derived very recently from the same stock and, in truth, share lines which can be found in common to this day.
The Rough Collie is, of course, the somewhat refined version of the original working collie of the Scottish shepherd, fro, which it has been selected over at least a hundred years. As a result we now see a glamorous show dog which draws applause because of his aesthetic appearance, in the same way that his working cousin thrills audiences in the competitive obedience ring.
This is not to suggest that the work of the pedigree breeder has made the Rough Collie the equivalent of the human "dumb blonde". Far from it: many of the breed can perform satisfactorily, offered the chance, and it is as well for owners to remember the "origin of the species" when taking their companions across farmland and hillside; all too easily the quiet pet can prick up his ears at the sight of a grazing flock with disastrous results as the old instincts take charge. The basic message is that for all his beauty, the Collie is a worker and must never be dismissed as "just a pretty face".
The coat does not look glamorous as a result of negligence; grooming is hard work, but that work is very rewarding. Surprisingly enough the Rough Collie does not seem to demand vast amounts of exercise, but care must be taken to stop him from putting on too much weight.
The working Rough Collie needs a working award before he can be crowned Champion rather than Show Champion.
General Appearance.
Appears as a dog of great beauty, standing with impassive dignity, with no part out of proportion to the whole.
Characteristics.
Physical structure on lines of strength and activity, free from cloddiness and with no trace of coarseness. Expression is most important. In considering relative values it is obtained by perfect balance and combination of skull and foreface, size, shape, colour and placement of eyes, correct position and carriage of ears.
Temperament.
Friendly disposition, with no trace of nervousness or aggressiveness.
Head and Skull.
Head properties are of great importance, must be considered in proportion to the size of the dog. Viewed from front or side, the head resembles a well-blunted clean wedge, being smooth in outline. Skulls flat. Sides taper gradually and smoothly from ears to end of black nose, without prominent cheek- bones or pinched muzzle. Viewed in profile, top of skull and top of muzzle lie in two parallel straight lines of equal length divided by a slight, but perceptible stop or break. A mid-point between inside corner of the eyes [which is centre of a correctly placed stop] is centre of balance in length of head. End of smooth, well-rounded muzzle blunt, never square. Under-jaw strong, clean cut. Depth of skull from brow to underpart of jaw never excessive [deep through]. Nose always black.
Eyes.
Very important feature giving sweet expression. Medium size [never very small], set somewhat obliquely, of almond shape and dark brown colour, except in the case of blue merles when eyes are frequently [one or both or part of one or both] blue or blue flecked. Expression full of intelligence, with quick, alert look when listening.
Ears.
Small, not too close together on top of skull, not too far apart. In repose carried thrown back, but on alert brought forward and carried semi-erect, that is, with approximately two-thirds of ear standing erect, top third tipping forward naturally, below horizontal.
MOUTH
Teeth of good size. Jaws strong with a perfect, regular and complete scissor bite. Ie upper teeth closely overlapping lower teeth and set square to jaw.
NECK
Muscular. Powerful, of fair length, well arched.
FOREQUARTERS
Shoulders sloping and well angulated. Forelegs straight and muscular, neither in nor out at the elbows, with moderate amount of round bone.
BODY
Slightly long compared with height, back firm with a slight rise over loins; ribs well sprung, chest deep, fairly broad behind shoulders.
HINDQUARTERS
Hind legs muscular at thighs, clean and sinewy below, with well bent stifles. Hocks well let down and powerful.
FEET OVAL
Soles well padded. Toes arched and close together. Hindfeet slightly less arched.
TAIL
Long with bone reaching at least to hock joint. Carried low when quiet but with slight upward swirl at tip. May be gaily carried when excited but never over back.
GAIT/MOVEMENT
Distinctly characteristic in this breed. A sound dog is never out at the elbow, yet moves with front feet comparatively close together. Plaiting, crossing or rolling are highly undesirable. Hind legs from hock joint to ground when viewed from rear to be parallel but not too close; when viewed from side, action is smooth. Hind legs powerful with plenty of drive. A reasonably long stride is desirable and should be light and appear effortless.
COAT
Fits outline of body, very dense. Outer coat straight and harsh to touch, undercoat soft, furry and very close almost hiding the skin; mane and frill very abundant, mask and face smooth, ears smooth at tips, but carrying more hair towards base, front legs above hocks profusely feathered, but smooth below hock joint. Hair on tail very profuse.
COLOUR
Three recognised colours: Sable and White, Tricolour and Blue Merle.
SABLE: any shade of light gold to rich mahogany or shaded sable. Light straw or cream coloured highly undesirable.
TRICOLOUR: predominantly black with rich tan markings about legs and head. A rusty tinge in top coat highly undesirable.
BLUE MERLE: predominantly clear, silvery blue, splashed and marbled with black. Rich tan markings preferred, but absence should not be penalised. Large black markings, slate colour or rusty tinge either on top or undercoat are highly undesirable.
All should carry typical white Collie markings to a greater or lesser degree. The following markings are favourable – white collar, full or part, white shirt, legs and feet, white tail tip. A blaze may be carried om muzzle or skull, or both.
SIZE –HEIGHT: dogs 56-61cm [22-24in] at shoulder.
bitches 51-56cm [ 20-22in].
FAULTS
Any departure from the foregoing points should be considered a fault and the seriousness with which the fault should be regarded should be in exact proportion to its degree and its effect upon the health and welfare of the dog.
Note: Male animals should have two apparently normal testicles fully